Vajrasattva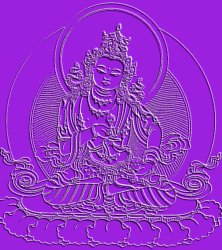 Note: This sadhana is posted for academic interest only. The results of practicing this sadhana tend to purify your negative actions by bringing the karmic retribution of your actions onto you quite suddenly. DO NOT UNDER ANY CIRCUMSTANCES practice this meditation without prior instruction and empowerment from a qualified Lama or Rinpoche.
If you have recieved empowerment, or if you are only interested in this sadhana academically, please continue. If not, please press your "back" button now. You are on your honor and are responsible for your own actions!
OM VAJRASATTVA SAMAYA MANU PALAYA VAJRASATTVA TE NO PATISTHA DRI DHO ME BHAWA SU PO KHAYO ME BHAWA SU TO KHAYO ME BHAWA ANU RAKTO ME BHAWA SARWA SIDHIM ME PRAYATTSA SARWA KARMA SU TSA ME TSITTAM SHRI YAM KURU HUNG HAHAHAHAHO BHAGAWAN SARWA TATHAGATA VAJRA MA ME MUNTSA VAJRA BHAWA MAHA SAMAYA SATTVA AHH...
Translation:
OM! The vajrasattva samayas (vows). Grant your protection, Vajrasattva. Remain firm in me, help me to be totally satisfied, increase the positive within me, be loving towards me. Bestow all the accomplishments, as well as all the activites. Make my mind and heart virtuous, and resound with the four boundless, four empowerments, four joys, and four kayas, and the joyous laughter within them! Rinpoche, precious one, and all of the buddhas, vajrasattva, don't abandon me. I pray to become a vajra holder, Great samaya being! Unify and unite in non-duality.
Instructions for Vajrasattva Meditation:
Begin by visualizing Vajrasattva sitting in the lotus posture seated on a white moon disc which is resting on a thousand petaled white lotus. Visualize Vajrasattva sitting one elbow length above your head. The stalk of the louts seat is coming out of the center of your head and extending up to the lotus. The lotus is the five colored rainbow.
Vajrasattva has very richly colored white skin. The whiteness of his skin is the color of a glacial mountain illuminated by the light of one hundred thousand moons. The whiteness of his skin is very bright and shining and the color is radiating from every part of his body in all directions.
Vajrasattva is very peaceful looking and is perceived as full of compassion and loving kindness. He is wearing many different ornaments including bracelets, amulets, necklaces and earrings. He is holding a bell in left hand and a five pointed vajra in his right hand. He has long hair flowing down his shoulders. He is not a solid physical body but rather a body composed of wisdom light. Vajrasattva can be visualized with or without his consort, Vajramanani. She is light red in color and is ornamented, holding a curved knife in her right hand and a skull cap full of nectar in her left. She is embracing Vajrasattva with her left arm.
Visualize a small full moon shaped disc with a five pointed vajra of wisdom light in his heart center. In the center of the vajra imagine the bija HUNG (the heart mantra of Vajrasattva) surrounded by the One Hundred syllable mantra of Vajrasattva.
With a feeling of devotion toward Vajrasattva realize that you are going to remove all your obscurations, karma and negative emotions. With this thought begin reciting the one hundred syllable mantra. As you recite it, the mantra rotates in a clockwise direction and become self-reciting. As the mantra rotates, imagine that blessings are flowing from Vajrasattva in the form of nectar. This nectar flows down the lotus stalk, through the crown of your head and gradually fills your central channel and all of your obscurations and negative karma and emotions are pushed out of your body into the ground. Continue reciting the mantra and when all the negativity is pushed out imagine your body filled with joy and happiness.
As your body is fills with nectar, it becomes the same white color as Vajrasattva. Imagine Vajrasattva smiling and radiating wisdom light and saying, "Noble son or daughter, all your obscurations are totally removed and finished." Then Vajrasattva dissolves into a white light which moves down the lotus stalk into your central channel and merges with your natural mind at your heart center. When the light stops at your heart center you are immediately transformed into Vajrasattva and this universe is transformed into the pure land of Vajrasattva. Hold this image in your mind and recite the six syllable, OM VAJRA SATTVA HUNG for as long as you have time.
End the visualization with a meditation on emptiness and dedication of merit.