Namo Gurubei! Homage to the Lamas!
Khenchen Palden Sherab Rinpoche and Khenpo Tsewang Dongyal Rinpoche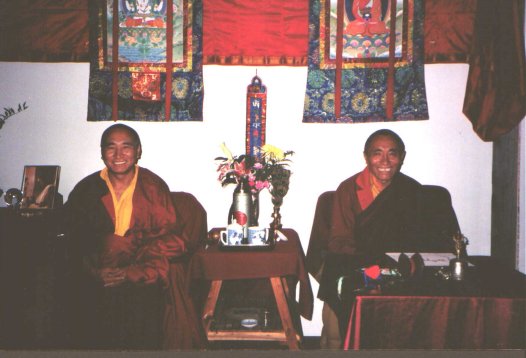 Here is a picture of my teachers, Khenpo Khenchen Palden Sherab Rinpoche, and his younger brother, Khenpo Tsewang Dongyal Rinpoche. That is Khenpo Palden on the right, and Khenpo Tsewang on the left. They are both very learned masters and very kind individuals, excellent teachers that we are very fortunate to have with us here in the west. I cannot say enough nice things about them, they are just so much happiness. If you would like to know some more about the Khenpos and the Padmasambhava Buddhist Centers in which they teach, just follow the link below:
Padmasambhava Buddhist Centers
Padmasambhava Buddhist Centers of Tennessee






OM GURU AYU SIDDHI HUNG HRI A MA RA NI JE VAN TE YEH SVAHA! OM SVOTI!