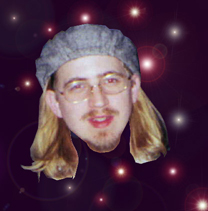 BEHOLD YE THE FLOATING HEAD OF GRANT!
The Floating Head of Grant speaketh crystalline divine truths,
even more so than the Gelatinous Ouija Board of Elvis. It is written!
So please do try to ask relevant questions, lest that the
FLOATING HEAD OF GRANT
become cross and smite thee in twain!
If hee seemeth a wee bit ornery, 'tis only because witless knaves and
dull wenches keep asking questions like "Does Johnny think I'm cute?"
and "Will I ever get laid?" and "Is my room-mate a poofter?", rather than
questions that ponder the very essence of sentience itself, which is the bait
that was used to lure his omniscient noggin into this cage of java.
MWAHAHAHHAHAHAHA!
Click here to go back to Vajra108's Shameless Ego
Click here to go back to Vajra108's BuddhaDharma Site